Did you get your own Emergency Roadside Service, or are you still in need of service? 
Roadside & Automotive COVID-19 Update:
CAA North & East Ontario is closely monitoring the rapidly evolving COVID-19 situation. We follow guidelines issued by all levels of government and relay those to our Members. For the health and welfare of Members, as well as employees, we ask for your cooperation in order to prevent the spread of this virus.  Our Club has developed precautionary measures and is taking action to limit contact with the public, while still remaining there for our Members when they need us. Click here for COVID-19 (Coronavirus) updates.
Received Emergency Roadside Service on your own
If you sought out service on your own*, and need to apply for reimbursement, here's what to do:
Are you a Member of CAA North & East Ontario (290), and would like to apply for a reimbursement?
 Are you a Member of CAA South Central Ontario (282), and would like to apply for a reimbursement, please see their Club page at:
 How do I know which CAA Club I belong to?  Check your Membership Card.  Your Club code is indicated by numbers 4 to 6 as seen in the image below.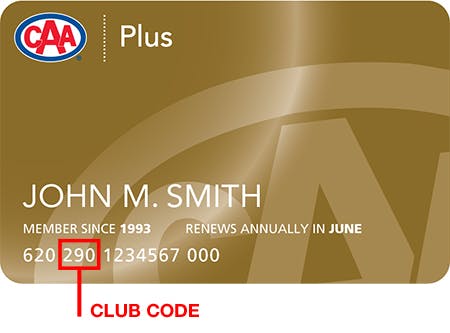 Road Closures in Ontario
Do you need to check the status of a closed road in Ontario?
Have not received service yet?
Do you still need service?  Please call 1-800-CAA-HELP (1-800-222-4357) or download the CAA Mobile App to place your road service call.  Please be advised that you may still experience longer service wait times as we continue to complete the high volume of calls from the extreme weather event.  We thank you for your ongoing patience.
CAA Roadside Assistance is available 24 hours a day, 7 days a week.
Be prepared before you call for CAA Emergency Roadside Service!
Please have the following information available:
Your CAA Membership number and photo ID
Your name
The apparent problem with vehicle (e.g. vehicle won't start, stuck, flat tire, lockout, etc.)
Vehicle make, model, year and colour
Exact location of the vehicle (address and nearest cross street) or the point of safety you're calling from (telephone number if possible)
Return to the vehicle or to the agreed upon meeting place to wait for the service technician's arrival. Present your valid Membership card (the driver may ask to see photo identification, as well). The service technician is not permitted to charge the Club unless the Member has a valid personal Membership card in his/her possession. You, the Member, must be with the car in order to receive service.
Once you have placed your call for Emergency Roadside Service, track your driver online for live updates with CAA's Service Tracker
*Terms and conditions apply. Read more at CAA Member Reimbursements.