Critically Acclaimed Dining with AmaWaterways:
Normandy Seafood Stew
With 600km of coastline, Normandy has an abundance of fresh seafood. Legend has it that a woman known only as Mrs. Maurice owned a tavern for sailors in the city of Dieppe called "La Marmite Dieppoise." Mrs. Maurice was renowned for her incredible fish stews made with the day's catch, as well as shrimp and mussels. Her legendary dishes were named after the restaurant and the rest is history. Tonight, cook the classic Normandy Seafood Stew by AmaWaterways.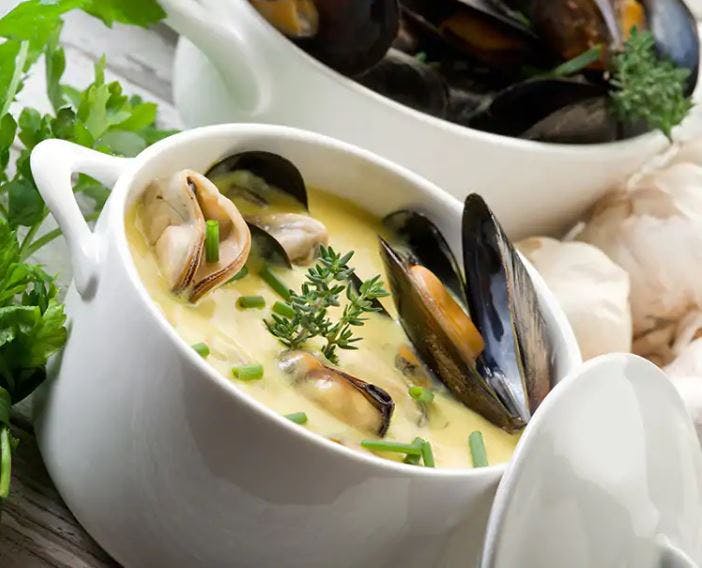 Serves 4
Normandy Seafood Stew
500 g (1 lb.) mussels , cleaned and de-bearded
1 ¼ cup cider or white wine
Large knob of butter
2 leeks, cleaned and sliced
1 ½ cup baby button mushrooms, sliced in half
150 ml (5 oz.) crème fraîche
4 white fish filets (with skin on)
Small bunch of flat-leaf parsley, chopped
Place mussels and cider or wine in a wide, shallow pan. Cover and place over high heat for 3-4 minutes, shaking the pan a few times until mussels open.
Tip into a colander placed over a bowl to catch the cooking liquid. Discard any mussels that have not opened. Place the pan back on the heat with a large knob of butter.
Sizzle the leeks for 8 minutes until soft, then add the mushrooms, the mussel cooking liquid, and the crème fraîche. Simmer for 5 minutes to reduce by half.
Turn down the heat and add the fish. Cover and gently poach for 10 minutes until cooked, then carefully lift out. Stir the parsley through the mussels, return to pan and heat through.
Place one fish filet in each serving bowl and spoon everything else around it. Delicious served with boiled waxy potatoes.