CAA Travel's Holiday Gift Guide for the Travel Lovers in Your Life
While travel restrictions may be in place and travel limited at this time, that can't stop travel lovers from dreaming, planning and getting equipped for future travel. If you or someone you love is looking forward to exploring the world again once it's safe to do so, be sure to visit a CAA Store this holiday season for luggage, bags, travel gadgets and health and safety accessories from the travel experts.
For Gadget Gurus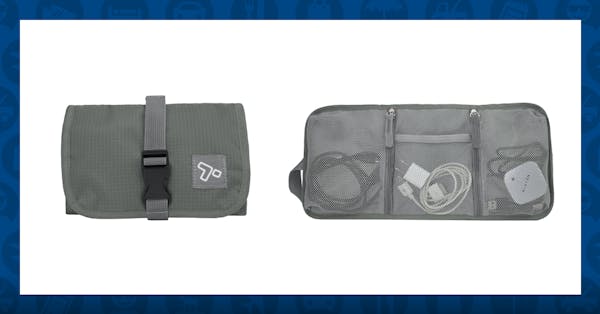 If you or someone you love has the latest gadgets and is ready for anything on their travels with their bottomless bag of technology, stop by a CAA Store to pick up a Travelon Tech Accessory Organizer to put under the tree! This handy travel accessory will keep all gadgets and cords together in one place while keeping them easily accessible for the times when you need to charge on-the-go or snap a quick picture of the perfect sunset.
For Souvenir Superstars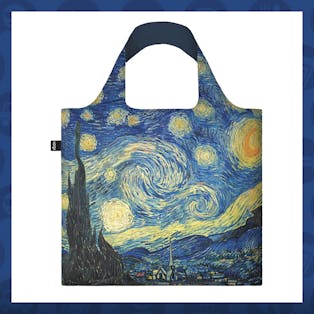 Who hasn't been on vacation and found the perfect souvenir but didn't have the room in their travel-size purse or bag to carry it with them? The LOQI Canadian Print Tote Bag is the perfect solution to this age old travellers dilemma! Super lightweight, the LOQI Canadian Print Tote Bag folds up easily and tucks away in your purse, bag, or fanny pack and is ready to grab when extra carrying capabilities are needed. Canadian print not your look? The LOQI Tote Bag also comes in museum prints of famous works of art including Van Gogh's Starry Night. Patterns and availability may vary by CAA Store location.
For Captains of Comfort
Rest comfortably whether hitting the road for a few hours on a short road trip in the passenger seat or taking to the skies for a long-haul flight with the ORB Travel Neck Pillow in Canadian Patterns. Designed with ergonomic and orthopedic contours, and made with hypoallergenic premium memory foam, this travel neck pillow will quickly climb to the top of packing lists.
For Road Runners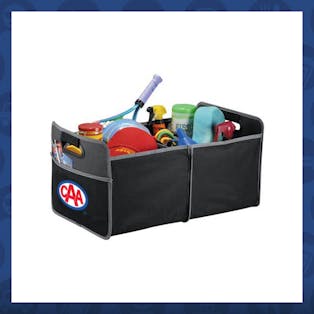 Be prepared for anything as you wind through the backroads on the scenic route or hit the high-speed highways with the CAA Trunk Organizer. Sturdy construction and convenient handles mean it's ready to carry the weight of windshield washer fluid bottles and emergency roadside hazard kits, separated compartments make it easy to balance the load or sort items by purpose, and best of all, it collapses down easily when not in use.
For Achy Aisle Walkers
Do you often get sore legs and feet on long trips whether you're flying, driving, or taking the train? Improve your blood circulation and stay comfortable with Top & Derby Compression Socks, available at CAA Stores. Patterns may vary by CAA Store location, but your love of your new compression socks will stay constant from the first time you put them on.
For Active Adventurers
Keep your adventures hands-free without sacrificing your safety and the protection of your belongings, money and important documents with the Travelon Anti-Theft Classic Sling Bag. Locking compartments, slash proof construction, adjustable cut-proof sling and RFID blocking card and passport slot make this bag every would-be-thief's worst enemy.
For Weekend Warriors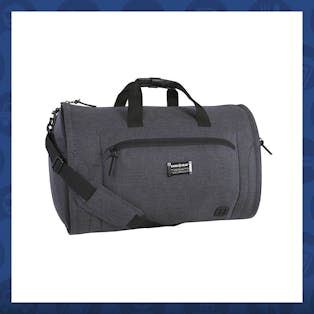 Travel light for a weekend away or short trip travel with the Swiss Gear Everything Duffel Bag. Combining the functionality of a garment bag with the portability and simple elegance of a luxury duffel bag, this bag offers the perfect amount of space for a weekend's worth of clothing, with a side sleeve for your shoes so your fashion doesn't have to suffer because of space restraints.
For Frequent Flyers
A suitcase ready for whatever TSA or baggage handlers can throw at it. The Samsonite Pursuit DLX Spinner Medium suitcase features a classy design and durable construction while remaining lightweight thanks to its textured polycarbonate shell. This suitcase was designed with the frequent flyer in mind and would make anyone happy to find it wrapped under the Christmas tree.
For All-Around Adventurers
Be prepared for all adventures with the 3-Piece Champs Traveller Set. Do you like to take weekend getaways, weeklong quick trips and extended vacations? The 3-Piece Champs Traveller Set of luggage is ready for all adventures and all your packing needs. Lightweight design, telescopic handles and 360-degree spinner wheels mean you'll get to your destination quickly and comfortably every time.
Just for CAA Members!
Did you know that CAA Members have access to Member Exclusive items, a new product line announced in 2020 that features an assortment of health and safety products that are great to put under the tree or stuff in the stockings?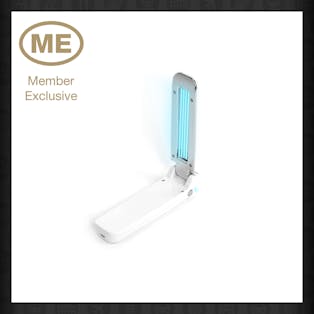 Zap away germs and viruses in flash with a handy sanitizing device from CAA Stores. The Lightsweep Portable UV-C Sanitizer Wand is for those looking to clean on-the-go. Great to throw in your purse or bag or leave in your home's entryway so you can sanitize your everyday items like your phone, keys, and bank cards upon returning from errands.
Needing an inexpensive gift topper? Consider picking up a Travel Care: Travel Wellness Kit from a CAA Store. This Member Exclusive product has the essential tools to travel safely when you're ready to travel again – hand sanitizer, disposable face masks, sanitizer wipes, and more! Alternatively, you can buy 2020's biggest fashion accessory – a fabric face mask! The Brightsafe Face Mask's are another $5 Member Exclusive item at CAA Stores and come in a variety of colours and patterns.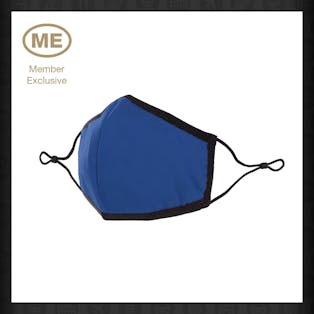 Whether you're looking to gift yourself or a loved one new luggage, bags, travel gadgets or health and safety accessories, choose CAA Travel – the experts on all things travel. Visit a CAA Store to see our wide variety of products and services to make the holidays extra happy for the travel lovers in your life. Also, don't forget to visit us during our Boxing Week Sale for any items that weren't under the tree!