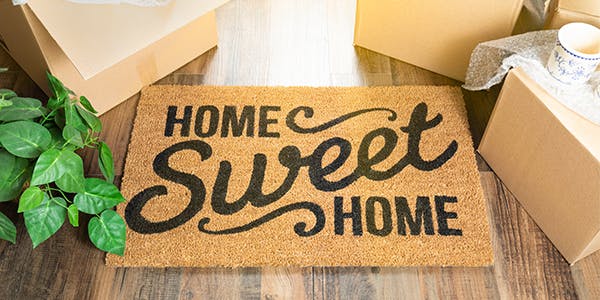 Buying or Selling Your Home? Make Your Move with CAA Rewards®
Is this the year that you are buying or selling a home? CAA Rewards is there for you with partners that can help make the process faster and easier than ever!
Secure or Renew Your Mortgage
Getting approved for a mortgage is often the first step for many homebuyers, even before they start working with a real estate agent. Why use a mortgage broker? There are many reasons to consider a mortgage broker rather than a traditional bank lender:
One-stop shop - mortgage brokers deal with over 50 lenders offering a multitude of options for every client and financial situation.
Free - brokers are paid by the lenders so you pay no fees for their service.
Rates - brokers have access to the very lowest interest rates.
Expert advice - brokers can help you navigate through the mortgage process and make it easier from start to finish.
Unbiased - brokers have no vested interest in any of the lenders, so you get the very best options for your individual needs.
How can CAA Rewards help you save on your mortgage?
CAA Rewards partner, Sigma Mortgage, offers CAA Members the opportunity to earn 100 CAA Dollars® for every $100,000 borrowed in mortgage products. Use those CAA Dollars to save on your next next CAA Membership renewal, or to purchase merchandise at any CAA Store.
Buying and Selling a Home
Once you've decided to enter the real estate market, you might have some prep work to do on either the house you are selling or the house you are buying (or both!). Home staging is a booming business, and making your space look it's very best is the key to getting top dollar for your home. Whether it's repainting rooms or decluttering by storing some of your furniture and belongings, these extra steps can translate into a higher selling price and quicker turnaround time when finalizing a deal.
CAA Rewards partners offer savings on many of the services you might need along the way:
CertaPro Painters®: Take the stress out of painting and let the professionals take care of all the details. Save 5% and earn 5% cashback in CAA Dollars. During the month of February, save 15% on all home-painting projects booked! Contact them for a free onsite or remote estimate.
PODS: Save 10% on moving or storage projects. You get all the time and space you need and all the control you want. Your container is delivered right to your driveway, or can be stored in a secure PODS Storage Centre. PODS will even move your containers across town or across the country to unpack them at your new home!
1-800-GOT-JUNK: Save 10% on all their services including decluttering services (junk removal), moving services, renovation cleaning, disaster cleanup, and residential or commercial junk pickups. Their environmental commitment ensures that they work to keep as much of your junk out of the landfills, by donating items in good condition and recycling where possible.
You've Bought a Home. Now What?
Congratulations! Buying a home is always an exciting time. We know the moving process can be busy and stressful, but CAA is there for you to help make the experience easier and more rewarding.
Home Security
Protecting your new home should be at the top of your planning list. Think Protection Home Security Systems can help you with their cutting-edge technology, flexible and affordable service plans, and best-in-class customer service. No annual contract is required, giving you the ultimate freedom and flexibility in securing your home. Best of all, CAA Members save $20 on the purchase of any security system and get three months of free monitoring.
Their options are meant to be flexible, affordable and easy-to-install:
They send the equipment right to you and walk you through the installation with one of their trained customer service agents,
The installation of their industry-leading wireless system is easy and you can control your system from your smartphone or a pin pad as you walk in your door,
Unlike some camera-only systems, all of Think Protection's products come with 24/7 around-the-clock, monitoring that will ensure help comes quickly in any emergency situation.
Getting Ready for the Big Move
Moving day can be daunting and requires planning ahead. Whether you are planning to move yourself or want a bit of help, CAA Rewards partners are there for you.
Rent a truck and move yourself with Penske Truck Rental. CAA Members save 12% plus earn 5% in CAA Dollars. Prefer to leave the heavy lifting to the pros? Book your move with AMJ Campbell and earn 200 CAA Dollars for long-distance moves, or earn 100 CAA Dollars on local moves. CAA Members also get other freebies like the use of five wardrobe or mattress bags on local moves.
Make your home buying and selling experience as stress-free as possible by leveraging experts along the way. CAA Rewards partners are there for you; to offer you their best advice, customer service and extra savings... all because you're a valued CAA Member!
Get Club News First 📣
Keep up-to-date by getting the latest news on exclusive CAA benefits and promotions sent directly to your inbox each month. Sign up today to receive the CAA Rewards newsletter and discover the latest Rewards deals available to you.
For on-the-go access to everything CAA including savings and rewards, download the CAA Mobile App and never miss a savings opportunity again!
Whether you are a new Member just discovering the world of CAA, or have been a Member for as long as you can remember, it's never too late to maximize your CAA Membership. Start using all the perks and savings that come with belonging to Canada's oldest and largest member-based organization... CAA!
---
*Terms and conditions apply. Partners and offers are subject to change without notice.