Set Your Sights on the Canadian Rockies!
Rocky Mountaineer brings breathtaking Canadian landscapes right to you.
Not so long ago, the most stunning sights and experiences of Western Canada were inaccessible to all but the hardiest of explorers. Today, Rocky Mountaineer, the passenger train operating in the Canadian Rocky Mountains and Pacific Northwest, cuts through the thick of Canada's wilderness and takes you on a luxurious journey through spectacular nature scenes.

Marvel at the beauty of the Northern Lights. Take in breathtaking sights from the Glacier Skywalk. Soak away your cares in remote hot springs days. Rocky Mountaineer's expertly planned itineraries bring the bounty of Western Canada right to your cabin window!

Rocky Mountaineer is the award-winning rail company, famous for pioneering new ways to immerse yourself in the wilderness, via their bi-level glass-domed trains. Socialize or enjoy the solitude of the moment as forests, rivers, mountains and wildlife rush by. Step onto the outdoor viewing platform to be surrounded by nature. Relax inside on plush leather seats while your onboard hosts bring fascinating natural and historical facts to life.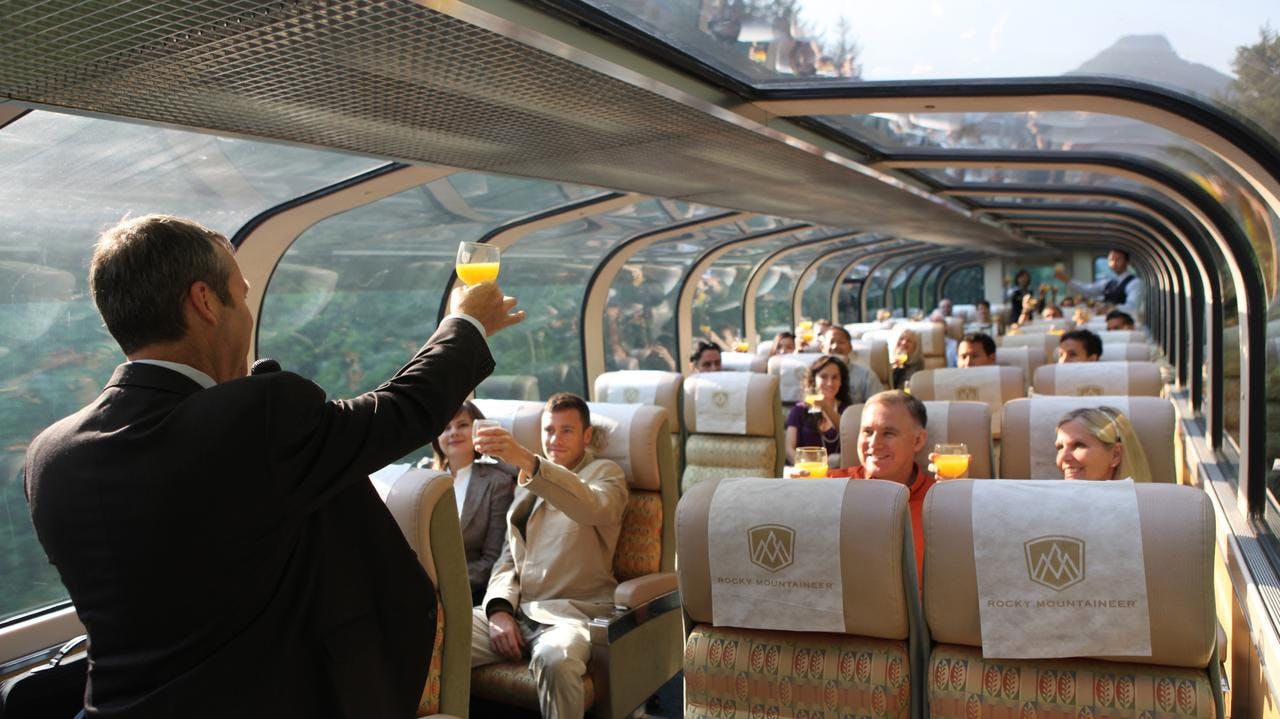 Aboard their world-class trains, exceptional service is the standard. Cuisine is prepared by chefs trained at Michelin-star restaurants. Gourmands will appreciate the high level of care and attention paid to the dining experience. Elegant menus feature local delicacies, such as salmon topped with smoked maple syrup, braised beef short ribs and seared albacore tuna.

During on your journey, you'll stay in prestigious hotels in vibrant cities and quaint mountain towns. Each offers adventurous experiences such as a sea-safari by zodiac boat, whale watching tours and helicopter sightseeing experiences for a birds-eye view.

History buffs will enjoy the First Passage to the West itinerary, the most popular route that runs between Vancouver and Banff – the jewel in the Canadian Rockies. Travellers who love spectacular sights will savour Journey through the Clouds, a route between Jasper and Vancouver featuring views of cascading waterfalls and Mount Robson, the highest peak in the Rockies range.

Other itineraries can include a night in Kamloops and Calgary and day trips to Victoria and Whistler.

See nature in all her glory! Contact CAA Travel at 1-800-267-8713 or visit your nearest CAA Travel stores and experience all that a Rocky Mountaineer vacation has to offer!