Top 5 Spooky Attractions & Activities for Halloween Lovers!
Organizers of the following attractions and activities have made adjustments to comply with ongoing COVID-19 restrictions and regulations to ensure your Halloween fun is as safe as possible. Please visit their websites or contact them directly for any inquiries regarding COVID-19 procedures and safety measures, ticket purchasing or reservations.
We all know that fall isn't only about pumpkin-spiced treats and apple picking. If you're looking to add a little scare to your October, CAA Travel has the thing for you, with options for Halloween enthusiasts, scaredy cats, and everyone in between!
Fort Fright is Kingston's haunted attraction at Fort Henry, a 19th century fortress in Canada's first capital. Tour through the stone building as actors hid behind the twist and turns and pop out to spook you when you least expect. Also included in your Fort Fright ticket are "Derailed: The Ultimate Haunted Photo Scavenger Hunt" and "The Murders at McMulligan Circus" – fun Halloween experiences from Improbable Escapes. The higher spook factor of this activity make it not recommended for children and requires all children under the age of 12 to be accompanied by an adult.
Looking to mix history and the paranormal? Take a tour of Watson's Mill in Manotick, Ontario, where you can learn about the village and the still-functioning flour mill and maybe even have a paranormal experience! There have been reports of visitors to the Mill and passersby in the village seeing a ghost looking out the second floor window on dreary days, hearing ladies footsteps coming from an unoccupied second floor, and some claim to have been grabbed by unseen hands when on the stairs. The Watson's Mill ghost is widely believed to be that of Ann Crosby Currier, the Mill's co-founder Joseph Currier's wife, who died tragically at an event celebrating the Mill's first anniversary when the skirt from her dress was caught in a piece of machinery while she was descending the stairs from the attic to the second floor of the Mill. This attraction is best suited for scaredy cats as most leave the Mill unscathed. Don't forget to buy some flour at the end of your visit!
Go behind the gates of Canada's oldest and most notorious maximum-security prison, where some of the worst criminals in Canadian history have served their sentences. Tour the cell range, former segregation wing, the Hospital of Kingston Penitentiary, and more as you wind your way through the reportedly haunted grounds. While sitting in the middle range of the spook scale, this tour is not recommended for children as the tour is quite long and follows a set path without the option to cut it short should little legs get tired.
Want to increase your chance of a paranormal experience with multiple haunted stops in one evening? A Haunted Walk might be just right for you! Take your bubble on a walking tour visiting some of Ottawa and/or Kingston's favourite haunted hot spots.
Choose from two tours in Ottawa. The Original Haunted Walk of Ottawa (book easily through our CAA website!) brings you to the Bytown Museum, Fairmont Chateau Laurier, and Ottawa's haunted high school. The Haunted Ottawa Jail Tour highlights the Ottawa Jail Hostel, where guests of the hostel have claimed to see a ghost standing at the foot of their beds.
Kingston also offers two tour options. The Original Haunted Walk of Kingston brings you through Kingston's old Sydenham Ward, featuring tales of haunted hotels, hidden burial grounds, grave robbing, hangings, and other spine-tingling surprises! The Ghosts of Fort Henry tour explores Kingston's spooky 19th century fortress and its many literal and historical dark twists and turns.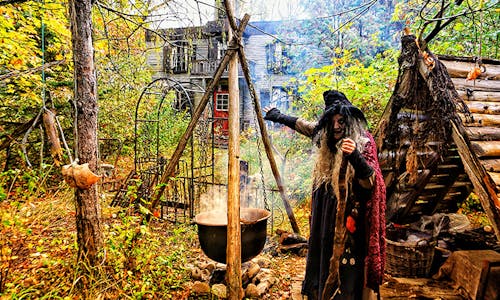 Looking for something to raise the scare factor? Visit Saunder's Farm's FrightFest, where you can experience "The Coven", the "Haunted Hayride" and "The Shambles" which will be sure to add some scare to your day. After you're done being scared stiff, you can enjoy farm-fresh food and craft beverages served from their pond-side patio.
If you're looking for a similar experience closer to the city, Saunder's Farm also has a new haunted attraction this year located at Lansdowne. "The Sawmill" features in-door and open-air elements and takes guests on a tour of the wreckage from the demolition of TD Place's Southside Stands...something tells us you'll be finding more than footballs! "The Sawmill" is not recommended for children under 12.
If being scared and tempting the paranormal world aren't your cup of tea, CAA Travel also has weekend getaway options and local activity inspirations. Regardless where your autumn adventures take you, we hope you stay safe and enjoy the season!