6 Spots for Solo Travel on the Mediterranean Sea
Check out our top six destinations for solo travel in the Mediterranean region!
There's almost no shortage of beaches, culture and dining options on the Mediterranean. Whether you're sampling la dolce vita in Italy or seeing la vida loca in Spain, destinations in this region of the world are sure to delight the senses.
Get your fill of sun, sand and surf – with a side of history to help keep things interesting:
Mallorca, Spain
One of Spain's Balearic Islands in the Mediterranean, Mallorca is known for its natural beauty: picture sheltered coves against a backdrop of limestone mountains. There's plenty to see and do in Palma, the island's capital city, which is known for the Moorish Almudaina royal palace and 13th-century Santa María Cathedral. Stone-built villages include the picturesque Pollença, with its postcard-pretty streetscapes, and the hillside Fornalutx, which is surrounded by citrus plantations.
Nice, France
Head to the Cote d'Azur for a beach-vibe that is as far cry from the pretentiousness of Paris as one can get in France. The capital of the Alpes-Maritimes region on the French Riviera, Nice sits on the pebbly shores of the Baie des Anges. Founded by the Greeks and later a retreat for the well-heeled European elites of the 19th-century, this city has also long attracted artists, beach-combers, and bohemians.
Sardinia, Italy
With nearly 2,000 km of coastline, Sardinia is one of the largest islands in the Mediterranean (second only to Sicily). Long stretches of sandy beaches and a mountainous interior, crisscrossed with hiking trails, make it an ideal location for active solo travellers. This rugged landscape is dotted with thousands of nuraghi, mysterious Bronze Age stone ruins shaped like beehives. One of the largest and oldest nuraghi is Su Nuraxi in Barumini, which dates back to 1500 B.C.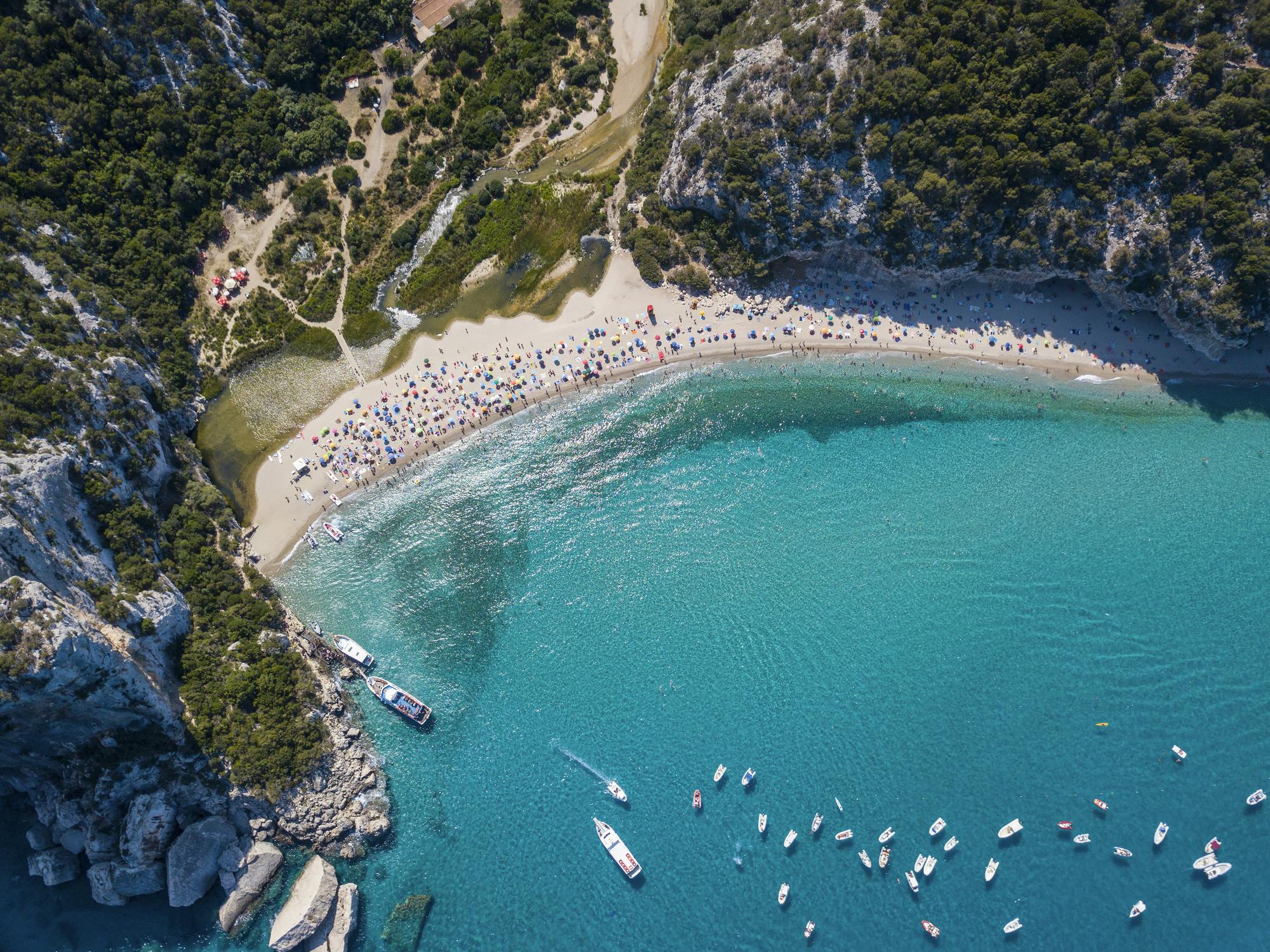 Crete, Greece
Greece's largest island is a nature-lover's paradise, with a varied topography that encompasses everything from rolling hills, to rugged mountains, to fine-sand beaches. The island's highest peak Mount Ida is home to the Ideon Cave, which is the birthplace of Zeus in local lore. Capital city Heraklion is a hustling and bustling work-a-day city, but a visit to the Heraklion Archaeological Museum to see its ancient Minoan artifacts is a must. While there, visit nearby Knossos, a Bronze Age settlement that's definitely not to be missed.
Mellieha, Malta
Head to the northern region of Malta to see the small town of Mellieha, popular for its sandy beaches and prisitine nature. Visit the Selmun Palace, built by the Knights of Malta, for a quick lesson in Maltese history and stunning views across town and beyond. You might recognize other parts of town from the 1980 movie Popeye (with Robin Williams), as it was filmed here. Wander around "Sweethaven" and experience Malta's creaky, crooked buildings overlooking the Mediterranean for yourself.
Paphos, Cyprus
Inhabited since Neolithic times, Paphos should be high on every history buff's bucket-list of destinations. Located on the southwest coast of Cyprus, this historic city is home to several sites relating to the cult of the goddess of love, Aphrodite, whose mythical birthplace was at Old Paphos (Kouklia). New Paphos is the modern city and harbor, as well as the ancient ruins of tombs, fortresses, theatres and settlements that comprise Paphos Archaeological Park.
Make way for the Mediterranean! You can travel alone, but in the safety of a tour group with CAA North & East Ontario's Solo Traveller Club. It offers the perfect balance of independent excursions and group adventure. Save your seat on an upcoming Solo Traveller Club departure today.
Visit your nearest CAA Travel store or call CAA Travel at 1-800-267-8713 and get en route to the Mediterranean!